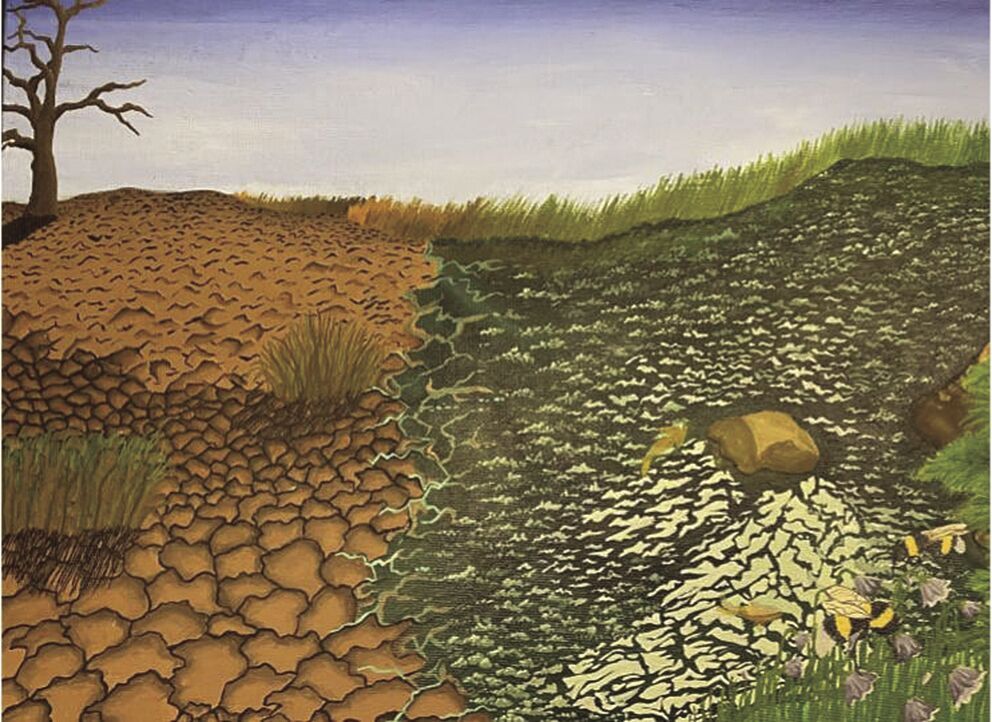 ASHLAND – Artworks by nine Ashland-Greenwood High School students have been selected to be published in Mediums for Change. Part of the Youth Expression Project, sponsored by the Nebraska Coalition to End Sexual and Domestic Violence, Mediums for Change is a statewide contest and celebration in which middle school, junior high and high school students are invited to submit art, digital media, poetry, prose and other forms of expression in response to one of the following themes: My Community is Beautiful, This Planet Is Precious, My Voice is Powerful, and Together We Can. 
Visionary Voice Award Winners include Reynee Goff, Zandi Kern and Cleo Wills. They will receive $100 each.
Visionary Voice Honorable Mentions are Sarah Wallingford and Cleo Wills. They will receive $50 each.
The following students also had works accepted for publication: Malyssa Cool, Olivia vonRentzell, Trinity Rowley, and Cleo Wills
Visionary Voice winner Cleo Wills also had her artwork "and yet…" chosen to be on the cover for this publication.
On May 16 at 2 p.m. there will be a virtual celebration of the Mediums for Change Youth Expression Project. During the event the Visionary Voice Award and Visionary Voice Honorable Mention winners will be publicly announced. To attend this virtual celebration, register at https://zoom.us/webinar/register/WN_nQ0ld9OETG-Q9qlW3SABZg.
The Ashland-Greenwood art students participated in the Nebraska Capitol Conference Virtual Art Show hosted by Fort Calhoun High School on April 14, coming away with a number of prestigious awards.
Overall conference show winners included Piper Boggs, who was awarded the Student Choice award for Ashland-Greenwood, and Reynee Goff and Cleo Wills, who both received runner up in Best of Show.
Other results are as follows.
Chloe Bergsten – First place, "Stuck Inside," acrylic painting
Malyssa Cool – First place, "Rose to the Occasion," painting
Reynee Goff – First place, "The Grass is Always Greener," acrylic
Alexis Hoefer – First place, "Tranquil Hills," acrylic painting
Trinity Rowley – First place, "Native Winter Spirit," oil
Piper Boggs – Second place, "Why does it look that way?" acrylic
Malyssa Cool – Second place, "Lost in Thought," acrylic
Zandi Kern – Second place, "The First Light," acrylic
Olivia vonRentzell – Second place, "Fiery Attitude," acrylic
Jayden Basa – Third place, "Royal Rose," acrylic
Sarah Wallingford – Third place, "Leaves Change, I Stay the Same," acrylic
Logan Bivens – First place, "Deserted Party"
Trinity Rowley – Second place, "World's Balance"
Jayden Basa – Third place, "Charmer"
Shea Barnes – Third place, "Flowing in Clay"
Fayth Withrow – Third place, "Infectious Beauty"
Reynee Goff – First place, "Penny for your Thoughts," colored pencil and watercolor
Cleo Wills – Second place, "There are Other Fish in the Sea," colored pencil and watercolor
Emily Kwarcinski – Third place, "Why Don't You Smile More?"
Cleo Wills – First place, "And yet…"
Fayth Withrow – Second place, "Through the Eyes of Life"
Photography – Digital Art – Graphics
Jason Klusaw – First place, "Seasons Change," photography/digital art
Piper Boggs – First place, "The Blackest Eyes of the Circus"
Alexis Hoefer – First place, "Paper Construction," card stock
Zandi Kern – First place, "Death by Black Gold," clay and epoxy resin
Emily Kwarcinski – Second place, "Medium Rare," clay and metal
Olivia vonRentzell – Second place, "Modern Day Jester," clay and found objects
Sarah Wallingford – Third place, "Before I'm Gone," clay
Shea Barnes – Third place, "What's Within," card stock
Tahler Sulzbach – Third place, "Midnight's Unheard Song," clay
Logan Bivens – First place, "Fish Boy"