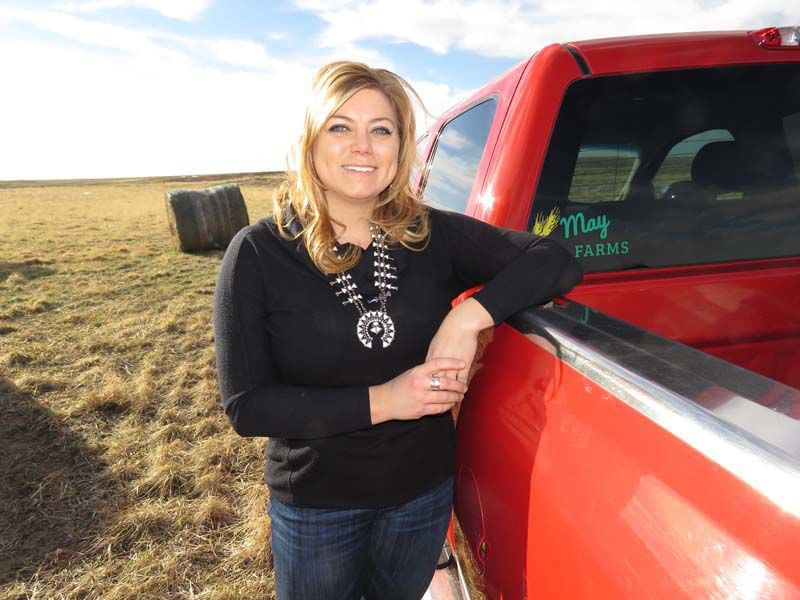 KEARNEY — Randa May calls herself a paper-pusher, but she's so much more.
As the county executive director for the U.S. Department of Agriculture Farm Service Agency office in Kearney that serves Buffalo and Sherman counties the last 4½ years, she and her five full-time employees administer federal farm bill programs.
"We are designed to help producers. That's why I work here. If I could build a staff and help producers, I knew we could make a difference," she said.
May also has a personal story.
She loves to learn and stretch her mind.
She builds relationships. Nothing makes her happier than being outside with farmers.
She is driven and seldom sits still. "I say, 'Let's get it done and power through this so the next day we can do what we want to do," May said. "Let's do it right the first time."
Tied to the land
She has a deep passion for the land, especially her family's farm in the southern Panhandle's Banner County, near the Wyoming border.
"People ask me, what town are you from? I didn't live in a town. I grew up in the country. The closest town was Albin, Wyo., seven miles away," May said.
She started her higher education at Laramie County Community College. She had too many credits in too many subjects for a single major, so her associate degree was in general science.
May then went to the University of Wyoming to study kinesiology — the study of body movement — to prepare for a physical therapy career focusing on wounds and athletic training. One semester shy of her bachelor's degree, those plans abruptly halted.
"I worked as a physical therapist's aide. One day a patient came in who'd just had a procedure done on the bottom of his foot and I had to change the dressing. He had a bad infection. It made me sick. I ran out of the clinic to the restroom," May said.
"I realized I couldn't handle certain aspects of that profession. Not that bodily fluids bother me — I'd handled livestock — but it was an enclosed space. It was a bad experience."
Realization dawns
Deeply shaken, she headed home, worked on a ranch and had a part-time job in Cheyenne.
She also realized that "nothing made me happier than being outside working with farmers and talking to farmers, hearing their life experiences. Sitting and listening and talking with the tailgate down on the bed of the pickup, just shooting the breeze, saying, 'Hey, neighbor, it's looking good.'"
"That impromptu stop in the field and a sense of community is basically what the ag industry is all about. It's the community being together in both good and bad times," May continued. "I began to realize that this industry is home."
A close family
She and her brother Ryan, four years younger, grew up together. They showed hogs and spent hours outside.
Although their parents urged them to spread their wings after college and not to come back to the farm, Ryan headed home after earning an agriculture degree.
"We call it a family farm for a reason," May said.
She described her nurturing mother as "the organized record keeper who made sure everyone was where they needed to be." Her father was "the glue who taught Ryan and me everything we know about the farm. He taught us how to build relationships with other people."
May's activities included being a 4-H and FFA member, exhibiting show hogs, playing basketball by the third grade and volleyball in high school. "You can compete individually, but competing on a team makes you a better person," she said.
Earning a degree
About her return to the University of Wyoming as an agriculture major, May said, "If I wasn't taking 20 credits, I didn't have a full schedule. I liked school. I liked learning. I liked being challenged. I wish I'd taken some art classes, but I don't have time to do that now."
She received an ag business management degree in May 2012 and was hired by Farm Credit Services in September as a crop insurance specialist. She loved it.
"I like looking at intricate details of why rates would change, and the national and international parts of that. I really enjoyed meeting producers and building both professional and personal relationships," May said.
Itching for a bigger challenge 2½ years later, she became an FSA county operations trainee in Scottsbluff, then moved to Alliance and often traveled as far east as Columbus. "I decided to live like a gypsy. I moved all my stuff back home to the farm," May said.
Ten months later, in November 2015, she was offered the county executive director job in Kearney. She started on Dec. 27.
A heady challenge
"The job can be challenging, and every day is different," May said. "Payments may not be going through, the software may not work and there are stressful challenges for producers. We have to know how to sympathize and empathize while still administering programs effectively."
That's been especially true following the 2019 floods that hurt a lot of people financially.
"Farmers and ranchers have crop insurance that helps with federally insured commodity crops, but there is no insurance for dead livestock or other crops," May explained. "We have to understand their frustration and see how we can help them within eligibility requirements. Sometimes a program cannot help a producer or doesn't allow a producer to be eligible. That tugs at our heartstrings."
Loup City farmer-cattle producer Mike Kaminski praised the work of May and her Kearney staff in assisting producers like him to apply for disaster assistance for their 2019 flood-related cattle losses and infrastructure damages.
"They have been absolutely fantastic to work with," Kaminski said.
Farm programs and policies can change with every election and each new farm bill. Trade issues with China had a huge financial effect on ag producers the past couple of yeas.
"The Trump Administration put forth a market facilitation program to help producers due to tariff wars," May said. "We saw (commodity) prices start to fall significantly. That affected producers' bottom lines ..."
While the one-time federal program payments helped keep some people afloat, May said she knows producers would rather get higher commodity prices. "I hope that when negotiations are settled with China, we will see commodity prices rise again," she added.
More challenges
Noting that farmers and ranchers don't get federal bailouts like ones given to auto and real estate industries during the recession a decade ago, May said ag associations must advocate for FSA programs, "so when we have disaster years, producers can be helped."
May, who is single, returns home to Banner County every year to help with harvest and always wants to be a part of the family farm. She also hopes to marry and have children, which she calls "life's best blessings."
Meanwhile, she continues to grow beyond the physical therapy career she once envisioned, but left with no regrets. "Life happens," May said with a smile.
Be the first to know
Get local news delivered to your inbox!